The Growth Plan 2022 – Key Tax Updates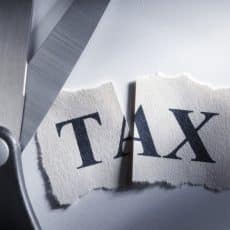 Chancellor Kwasi Kwarteng's 'Growth Plan 2022' delivered on the bold tax cut promises made during Liz Truss's leadership campaign in an attempt to stimulate the UK economy and to target a trend rate of 2.5% business growth.  It will save all individuals and businesses tax in the short-term, though the substantial increase in the government's borrowing and debt is a concern – if the generous tax cuts and reliefs don't result in the business growth that the government hopes for, these measures will of course need to be paid for in the longer-term.  We summarise the key tax announcements below.
Health & Social Care Levy – National Insurance and Dividend Tax Rates
The Healthy & Social Care Levy, only introduced in April this year, will now be scrapped from 6 November 2022.  The levy was an additional charge of 1.25% on top of national insurance and dividend tax rates and affected all employees, employers, the self-employed and investors/company owners with dividend income.  Employees will therefore see an increase in their net pay from November and employers will benefit from a reduction in their employers' national insurance bill.  The scrapping of the levy makes the impact on the self-employed and directors of limited companies more complex given these rates are calculated based on annual earnings over a full tax year.  There will therefore be transitional annual national insurance rates in 2022-23 for the self-employed and directors with employment income.
The additional 1.25% applied to dividend tax rates will also be scrapped but not until April 2023 – for the current 2022-23 tax year only, dividend tax rates will therefore remain 1.25% higher before dropping down to their 2021-22 levels from April 2023.
Income Tax
The planned 1% decrease in the basic rate of income tax year will now come into effect a year earlier than originally planned.  This means the basic rate of income tax will drop from 20% to 19% from April 2023.
The 45% additional rate of income tax payable by those with earnings over £150,000 is being abolished altogether from April 2023.  This means the highest rate of income tax from that point will be 40%.  The additional rate for savings and dividends will also be removed at the same time.
Corporation Tax
Corporation tax was due to increase from 19% to 25% from April 2023 for all but the smallest businesses, with a tapered increase for businesses with profits of between £50,000 and £250,000.  These plans have now been cancelled and the corporation tax rate will remain at 19% for all businesses.
Annual Investment Allowance
The temporary £1 million Annual Investment Allowance (AIA) will now become permanent and will not drop down to £200,000 as originally planned.  This means that businesses can deduct 100% of the costs of qualifying plant and machinery of up to £1 million in the first year.
Investment Zones
The government is planning to introduce 38 'Investment Zones' across the UK within which it will introduce lower taxes for businesses, accelerated housing development, 100% business rates relief, enhanced capital allowances, employer National Insurance contributions relief and SDLT relief.
Stamp Duty Land Tax
The threshold at which Stamp Duty Land Tax (SDLT) is payable has been increased from £125,000 to £250,000.  The threshold for first-time buyers is increased from £300,000 to £425,000 and the maximum value of a property on which this first-time buyers' relief can be claimed increases from £500,000 to £625,000.  All of these SDLT cuts apply with immediate effect, i.e., from 23 September 2022.
IR35 Regulations
In a move to remove complexity from the tax system, the 2017 and 2021 reforms made to the off-payroll working rules (IR35) will now be repealed from 6 April 2023.  These reforms transferred the obligation to assess a worker's employment status from the worker to the business engaging the individual.  From April 2023 it will be workers that will once again be responsible for determining their employment status.  We therefore anticipate that businesses will again be taking on contractors on a self-employed basis after shying away from it for the past few years.
Energy Prices
Under the Energy Bill Relief Scheme, wholesale gas and electricity prices will be temporarily fixed for non-domestic customers for six months from 1 October 2022 to 31 March 2023 to protect businesses, schools, hospitals and charities.  The capped prices are expected to represent a significant discount to forecast energy prices for the next few months and will be a relief for small businesses worried about rising energy costs.  The discount will automatically be applied to business bills and won't need to be separately applied for.  A review of the operation of this scheme will take place in three months to determine whether any future support beyond the six months of this scheme will be offered.
For domestic customers, an Energy Price Guarantee was announced earlier this month and will cap the unit price that consumers pay for electricity and gas until 2024. The government indicates that this measure means a typical household should not expect to pay more than £2,500 per year in energy bills for two years from October 2022, though this will vary according to each household's energy usage.  In addition, all households will receive a £400 energy payment this winter from the Energy Bills Support Scheme (EBSS).
Although these measures will help to keep energy prices lower than they would otherwise have been, there is no doubt that both businesses and households will still be paying more for their energy costs than they have in the past.
Interest Rates
Yesterday the Bank of England raised interest rates for the seventh time in a row.  The rate increased by 0.5% to 2.25% – the highest in 14 years since the 2008 financial crisis. This is in response to rising inflation which is at a near 40-year high.  Inflation is continuing to rise both in the UK and worldwide for a number of reasons with the most significant being the increase in energy prices. Interest rates are expected to continue rising later this year and into 2023.
Real Living Wage
Not to be confused with the government's National Living and Minimum Wage, the Real Living Wage is a voluntary rate set by the Living Wage Foundation charity.  The current rate of £11.05 an hour for those in London and over 23 was due to increase to £11.95 from November, but the charity brought this forward yesterday in response to rising living costs and inflation.  The rate for those over 23 and outside London has risen from £9.90 to £10.90 per hour.  To reiterate, these rates are voluntary and the government's mandatory minimum wage rates remain the same from their last increase on 1st April 2022 and as listed here.